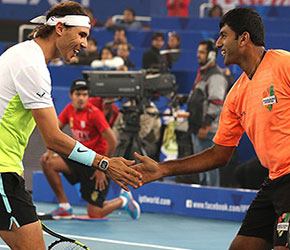 Season two of the International Premier Tennis League is underway and it has already provided some amazing tennis. The tournament is a multi-country one and matches are being held in Kobe, Manila, New Delhi, Singapore and Dubai. It will be played in each city for a period of three days and the top two teams will take on each in the finals.

The teams participating in the IPTL 2015 are the Singapore Slammers, Japan Warriors, Philippine Mavericks, Indian Aces and UAE Royals. Last year's winners were the Indian Aces and they look all set for another title. Currently, they sit on the top of the table with a decent margin of points over the next placed team. The franchise lost Roger Federer this year, but that doesn't seem to have hampered their campaign.

Their ace player, Rafael Nadal beat Roger Federer of the UAE Royals in the Indian leg. It was one of the most anticipated match of this season and the Indian fans turned up in big numbers. For the convenience the of fans, the organisers had tied up with BookMyShow and everyone cheered for their favourite player in this nail-biting clash.

The Singapore Slammers and Philippine Mavericks are on the second and third position. Both the teams are a few points apart, hence the ranking changes with every match. The Slammers are without their star player Novak Djokovic but Andy Murray has more than made up for that loss. He was instrumental in the Slammers win over the UAE Royals in Dubai. Philippine Mavericks' loss to the Indian Aces brought them to the third spot. Their performance has been decent as besides Serena Williams the team has no big names.

Last year's runners-up, UAE Royals have had a dismal tournament so far. Their performance in the IPTL 2015 has been a disappointment and their recent losses at home hasn't helped their cause. The franchise signed up Roger Federer for this year's edition but that hasn't reaped any good results. The team is placed fourth on the points table.

The Japan Warriors are the new team for this season and they are ranked last. Their star player is Leander Paes and this is his first IPTL. The team has lost a lot of matches and the points difference between them and the above-placed team is big. It is very unlikely for this team to make it to the finals. The tournament is done with the India, Japan, Dubai and Philippine leg so it will impossible for them to turn things around in Singapore. Maybe they can prepare better for the 2016 season.

Summary:

So that's wrap on the tournament so far. The Indian Aces will surely make it to the finals unless something goes horribly wrong. With regard to the second spot, it will be a tough fight between the Singapore Slammers and Philippine Mavericks.