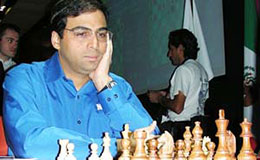 London: India's ace chess player and former world champion Viswanathan Anand managed to play a draw against reigning world champion Magnus Carlsen after the Norwegian had taken an edge over the Indian in the third round of London Chess Classic being played here on Monday.

In the most highly anticipated clash of the day, Carlsen chose to meet Anand's Ruy Lopez with the Berlin Defence, an opening that famously played a huge part in both their World Championship matches.

According to the official website www.londonchessclassic.com, Anand came out of the opening with a favourable position, but a few inaccuracies before the time control left Carlsen in the driving seat. However, the World Champion failed to convert his clear advantage and the players eventually agreed a draw on move 57.

Another player who came very close to tasting victory was Alexander Grischuk who, too, failed to convert his advantage and agreed for a draw against Anish Giri which keeps him unbeaten in the Tour. Fabiano Caruana also missed his chances against Hikaru Nakamura. Michael Adams, meanwhile, scored his third draw against Levon Aronian.

So after one decisive game in round one and none in round two, the third day also witnessed just one decisive game wherein Maxime Vachier-Lagrave of France defeated now-struggling Veselin Topalov of Bulgaria. A leader at the start of this final edition of the first Grand Chess Tour, Topalov needs a miracle to hold on to his top spot in the tour now.

Results round 3: V Anand (Ind, 1.5) drew with Magnus Carlsen (Nor, 1.5); Fabiano Caruana (Usa, 1.5) drew with Hikaru Nakamura (Usa, 1.5); Maxime Vachier-Lagrave (Fra, 2) beat Veselin Topalov (Bul, 0.5); Michael Adams (Eng, 1.5) drew with Levon Aronian (Arm, 1.5).