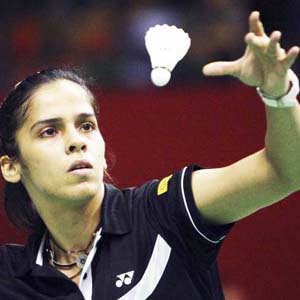 Saina Nehwal is peaking at the right time and has sent strong signals that she will be a player to watch for in the upcoming London Olympics. The ace Indian shutter is in the form of her life, beating some of the top players in the world and winning some of the toughest challenges known to a badminton player.
Saina, who was struggling with injuries and form throughout last year, has come back to her best and it will be safe to say that she is India best bet to win an Olympic medal.

It took her almost a year to end her title drought when she defeated Shixian Wang of China to successfully defend her Swiss Open title.
Injuries and slump in form had been bothering her for a year and it also saw drop on the rankings list, but her victory in Switzerland gave her the confidence to go in the future tournament on a high. After her Swiss Open triumph Saina has won the Thailand Open and then defeated the formidable Li Xuerui of China 13-21, 22-20, 21-19 to win her third Indonesia Open title in four years.

Saina after the victory said, "It has been a long two weeks and I just can''t believe that I have won two titles in this period. I have not yet started thinking about the Olympics but the victories have come at a very crucial time."

Saina claims that staying relaxed in the toughest situations has helped her a lot and that is the main reason why she has won the amount of tournaments she has won.

When Saina represented India in Beijing 2008, not much was expected out of her, but she went against all the odds to go up to the quarterfinal which is an achievement in itself. Over these four years, Saina rose through the ranks, made name for herself and has matured as a player.

At the current moment, she has more than a shot at the medal and the best thing about her is that she is ready to sweat it out for that elusive title. She is not the one who lives in her past glory and knows that she will have to improve her game to reach the heights that we all expect from her.

Saina on her preparations for Olympics said, "For me the important point is to be fit and injury free before the Olympics." She added, "It will be really hard in Olympics and I need to work on a few areas. I found some weak areas in my game in these two tournaments and I need to work on them."

The biggest obstacle for her in the Olympics will be the Chinese players who for long have been dominating the badminton world. "The Chinese are of course very strong opponents. They are so many of them but it is not impossible. I am trying to defeat most of them but of course it is not easy. I have to work very hard for that," said Saina.

But her recent record against the top Chinese players has been quite good as she defeated world number four Shixian Wang in the quarter-finals and world number three Xuerui Li in the final of Indonesian Open Super Series.

On her strategy against the Chinese players she said, "We have to go with a plan but I am sure when we move to court we forget everything. We just have to win each and every point."

On the pressure that people are putting on her Saina said, "People expect me to win. They want me to do well but finally on the court I am playing. So I want to play for myself first, and then think of others."

Saina has reached the level that was unknown for Indian women and going by the time she has in her hands, she might turn up to be one of the best athletes who don our tri-colors. Let's discuss some of the qualities that have made her so successful.

• Saina has the ability to raise her game in big events. She announced her arrival at the international badminton arena back in 2006 Commonwealth Games, Melbourne where she won the bronze medal. But World actually knew what Saina is made of when she made it to the fourth round of her first Olympics held in Beijing. And after that there was nothing that could stop her and she went on win many international tournament, including 2008 Chinese Taipei Open Grand Prix Gold, 2008 BWF World Junior Championships 2010 Commonwealth Games, 2011 Swiss Open Grand Prix Gold amongst others. And if records are to be believed, then it seriously does make her a serious prospect for India in upcoming 2012 London Olympics.

• She has been quite consistent since the time she has started playing. She went little off her shine last year but her Swiss Open win is definitely helped her bury her past agonies and does mark the arrival of her purple patch. And now when she has claimed the Thailand Open Grand Prix Gold event and the Indonesia Open as well she looks to have gained the lost momentum back.

• She is a very dedicated individual, even when she is not playing the game or relaxing, Olympics is still at the back of her mind. Saina has achieved a lot and a player of her nature has a kind of robust and arrogant nature. But she is completely a different entity all together and is open to take cues from others and accept her mistakes. This virtue has been one of the major reasons for her success and remains the same would continue to help during the Olympics as well.

In the nation dominated by sport like cricket, Saina has carved out a niche for herself. She also went up to number two on the World Rankings and poses threat to every shuttler she faces. She reached the world number two position in July, 2010 ahead of the girls from China, who have been dominating this game for so long and have always been in the top five till the injury took its toll on her as she dropped to number six in the world ranking in June, 2011.

The girl from Hyderabad who turned 22 recently, marked her arrival in the international badminton arena when in 2006 she became the first Indian to win a 4-star tournament; she achieved the feat after winning the Philippines Open after entering the tournament as low as 86th seed.

From there she achieved the feat that no Indian women did. She won the Yonex Chinese Taipei Open 2008 beating Lydia Cheah Li Ya of Malaysia and was named the most promising player in 2008. In 2009 she won the BWF Super Series. This win made her the only Indian women to ever win the prestigious tournament.

Saina had a tough last year where she crashed out of the 2011 Korea Open Super Series Premier. She than had a very short 2011 All England Super Series Premier. The disappointment continued for her had at Indian Open Super Series and the Thailand Open GP Gold as well. She also had an ankle injury but amidst all this Saina never lost her focus and came back to her winning best.

Abhinav Bindra created history when he became the first Indian to win an individual gold medal in the Beijing Olympics and it won't be a surprise if this very talented Hyderabad girl puts her name in that elusive list and if that happens it will be a great day for India, a country which is dominated by team sports and male athletes.