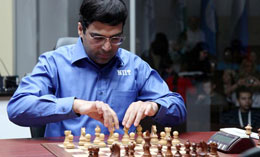 Bilbao (Spain): Defending champion Viswanathan Anand ended his campaign at the Bilbao Masters Final with a draw against Liren Ding of China in the sixth and final round.

Anand finished with five draws and a lone loss in the four-player double round-robin tournament and for the second time in a row, the Indian ace ended a Classical tournament win-less after he drew seven and lost two at the Sinquefield Cup earlier this year.

Meanwhile, Wesley So was crowned new champion of Bilbao Masters 2015, which took place from October 26 to November 1, in Bilbao, Spain.

The event was a double round-robin tournament, consisted of four of the World's best chess players, including five-time World champion and last year winner Viswanathan Anand, Anish Giri, Liren Ding and Wesley So.

The rare score system -- 3 points for a victory, 1 point for a draw and 0 points for a loss -- made the tournament interesting. Wesley So and Anish Giri finished with 8 points, leaving Anand and Ding full 3 points behind.

So and Giri played a two-game playoff to decide the title. So took the lead in the first encounter. However, Giri failed to convert his advantage in nthe second game and the draw was fixed after 98 moves and Wesley So was crowned new champion of Bilbao Masters 2015.

Results final round: Liren Ding (Chn, 5) drew with V Anand (Ind, 5); Wesley So (Usa, 8) drew with Anish Giri (Ned, 8). Tiebreak: Wesley So beat Anish Giri 1.5-0.5.