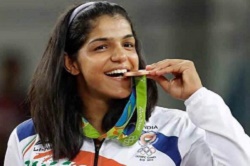 New Delhi: As the sun sets on Rio 2016, new research from Cambridge University Press indicates that the gender equality gap in the reporting of sport is beginning to narrow. Examining millions of words from news and social media commentary around the 2016 Olympic Games, researchers found that men's sports received just twenty per cent more air time than women's during the Rio Games – a considerable stride towards striking a balance in the reporting of men's and women's sport.
The gender-neutral term 'sportsperson' was also used with a considerably higher frequency during the Olympics in comparison to the language of sports more generally. We've also seen athletes themselves making strides towards generating fairer sports reporting, with Andy Murray deftly correcting John Inverdale's inaccurate reporting of his gold medals success surpassing his female counterparts.
The study also highlighted an association between the words 'female' and 'first' suggesting that Rio 2016 was an Olympics of firsts for many female athletes, including Taekwondo fighter Kimia Alizadeh Zenoorin who made history by becoming the first Iranian woman to ever win an Olympic medal. US Skeet shooter Kim Rhode became the first female athlete to win an individual medal in six straight summer Olympic Games.
The strides being made by these female athletes and others around the world is probably best surmised by the achievements of the women of the US Olympic Team who won 27 of the 46 American golds (securing six more medals in total than their male counterparts).
Closer to home, it was a series of firsts for Indian female athletes as P.V.Sindhu won a silver in professional badminton, becoming the first Indian woman to win an Olympic Silver medal while Sakshi Malik won the bronze medal in the 58 kg category, becoming the first Indian female wrestler to win a medal at the Olympics.
Delving deeper into the corpus, the manner in which these victories are reported in the media highlights a notable difference as men are more likely to 'claim' their medals, suggesting a bold sense of entitlement.On the other hand, women are most likely to 'clinch' their titles, suggesting a fight for glory, sometimes even positioned as the result of the male coaches and partners as in the case of Hungarian swimmer KatinkaHosszu.
Exploring further it appears that the sporting action didn't always take centre stage. The research also revealed that the word 'green', was commonly associated with the words 'colour', 'water' and 'pool' in Olympic reporting, relating to the mystical transformation of the alluring crystal blue diving pool to a murky green colour overnight.
While this mishap has emerged as one of the most reported stories of Brazil's hosting experience, the more positive and less bewildering term 'carnival' also ranked highly - a clear indication for the South American nation that their famous atmosphere and spirit was a key contributor to the success of the games and positive perception on the world stage.
Sarah Grieves, Language Researcher at Cambridge University Press, said: "We analysed a huge breadth of sources, putting us in a unique position to comment on the most significant words from Rio 2016 – whether this be the change in colour of the diving pool or seemingly sexist approach that still permeates this global spectacle. Overall, it is reassuring to see how the Olympics as a movement can help to encourage further equality in sport. However, it's disappointing to see that this supports the findings from our study ahead of the Olympics (about gender-equality in the wider language of sport) that women still tend to be associated with aesthetics and men with sporting ability."