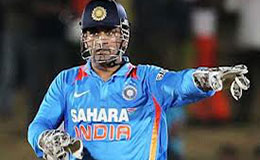 India's Test wicket-keeper Wriddhiman Saha is pretty confident that he will be able to perform as his predecessor Mahendra Singh Dhoni in the national outfit for the majority of the past decade. Wriddhiman Saha has played 11 Test matches and passed the half-century mark twice, but is yet to reach the three-figure mark.
As per the press conference after a training session at Chinnaswamy Stadium in Bangalore, he said, "After Dhoni bhai's retirement, filling his place as the wicketkeeper is not an easy task because he has had won many matches for us. He was a dominant character in the world. I am trying to do what Dhoni bhai did for us - that is to win matches with contributions coming from his bat as well as by taking catching and effecting stumpings in crucial situations."
When Mahendra Singh Dhoni announced his retirement after the Boxing-Day Test back in the year 2014, everyone knew that Wriddhiman Saha had big shoes to fill. It needed something special to match the services rendered by Mahendra Singh Dhoni during his career as a player and as a captain. Saha has been the next best alternative to the Indian Cricket Team behind the stumps in the past few years. Yet, Dhoni's brilliance overshadowed him enormously.
Saha is going to play a key role deep in the batting order of the Indian team when they tour West Indies this July. He tries to extract valuable advice from Mahendra Singh Dhoni as frequently as possible. He stated," We always talk to each other on every possible opportunity I and Dhoni get. We talk to each other as we did in IPL and India's Australia tour. He gave me vital tips on how to keep on bouncy tracks and handle pressure while batting. Not only Dhoni, I also talk to other players as well."
On being asked about how he is planning to approach the West Indies tour and try to earn a permanent berth in the team, Saha addressed, "I will try to make a good 70-odd runs to help the team gain an advantage over the opposition. If I am successful it will be good for me and the side."
He believes that the Indian Team is strong enough to beat the West Indies at their own den. He said that the Indian Team would go all out and play dominating cricket. India will aim to win a Test Series in the West Indies for a third consecutive time."
India begins their campaign in the Caribbean on the 21st of July for a Four-Test encounter.