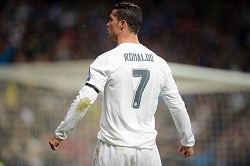 The 15th edition of 2016 UEFA European Championship, commonly referred to as Euro 2016, is scheduled to be held in France from June 10 to July 10. With Euro Cup just three days away, let's look at the top strikers who could change the game for their team in France.
5. Antonioe Griezmann: The Atletico Madrid player has been in tremendous form in the past couple of years and is regarded as one of best out and out strikers today. His goals almost won the red and white striped part of Madrid the Champions League this year. With Karim Benzema out, the responsibility of scoring goals for the home country will fall on this young shoulders.

4. Jamie Vardy: He scored at an average of 0.88 goals per game in 2015 (15 goals in 17 matches for Leicester City). He broke into prominence this year when scored in a record eleven consecutive Premier League matches in 2015, breaking Ruud Van Nistelrooy's record and taking his club to the top of the Premier League. Along with Kane, hopes of England will rest on how he performs in France.

3. Zlatan Ibrahimović: Captain of the Sweden National team and a former player for French club Paris Saint Germain, Zlatan will mostly be representing his country for the last time in a major competition. Scoring at an average of 0.78 goals per game in 2015 (30 in 38 games for PSG [22 goals] and Sweden [eight goals]), he is also the all-time highest scorer for his country with 62 goals in his tally. Expect him to perform well on and off the field.

2. Robert Lewandowski: Captain of the Polish side and a striker for the German club Bayern Munich, Lewandowski has scored at an average of 0.95 goals per game in 2015 (40 goals in 42 games for Bayern [31 goals] and Poland [nine goals]). If Poland hope to reach the knockout stages of the competition, their captain needs to be at his best.

1.Cristiano Ronaldo: Finally three time Ballon d'Or Winner, three time Champions League winner, Ronaldo will also be playing in France. He will captain Portugal and will want to end the 2015-2016 with a winner's medal in France to go along with the Champions League trophy.