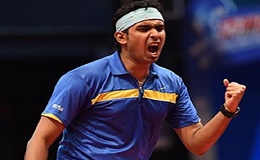 New Delhi, April 16: Brushing aside his four-year-old London disappointment and the third-place finish in the South Asia Zone qualifiers just a couple of days ago, Achanta Sharath Kamal fought his way back well in the decisive final round contest in Hong Kong's Queen Elizabeth Stadium to grab the second men's slot today.
At the Asian Olympic Games Qualification tournament's Stage 2 men's singles event, the Indian defeated Iran's Noshad Alamiyan 4-3 (12-14,11-6,3-11,7-11,11-4,11-7,11-6), much to his own relief and that of his teammates for whom he has been an iconic player.
Sharath, who made his first Olympic appearance at Athens in 2004, will be at the Riocentro in Barra da Tijuca, the table tennis venue, in August in the company of Soumyajit Ghosh, Manika Batra and Mouma Das, who also made her first Olympic appearance at Athens.
A maximum of two players per National Olympic Committee is allowed to compete in both the singles event at the Games. And, for the first time, India will be represented by a full four-member squad at Rio.
Testing contest
After spending a relaxed night following his tough win over Saudi adversary Ali Alkhadrawi, Sharath knew it was going to be a testing contest against the 25-year-old Alamiyan. His pre-match calculations proved right as Sharath was down 1-3 after the fourth game and all hopes of his third appearance at the Games seemed dissipated.
"When I was trailing 1-3, my mind was all about the next match that I will have to play if I lose this one. If I had lost, I would have to play against Jiang Tianyi (of China) and I'm not fit because of my back injury," admitted Sharath.
It was then the 34-year-old Indian brought to the fore his grit and experience and putting them together went on a rampage. Unable to withstand Sarath's combination drives—his backhand worked very well today—the Iranian wilted under pressure as the Indian went from strength to strength to win the next three games.
"My back is totally plastered and I'm in pain everywhere, I couldn't afford to lose and play one more match," said Sharath. "I seemed to have lost my motivation but in the fifth game I made a good start and the tide changed, I started to dominate the match."
Talking on his first and fourth games, Sharath said: "In the first game, I was up 8-5 and lost 14-12. That put more pressure on me. In the fourth, I was 6-2 up and lost eight points in a row. Those games made a big difference and if I had won them, it would have been an easier match. But, of course, if it was easy it wouldn't have been fun."
Incidentally, this was Sharath's fifth win over Alamiyan and the Indian rated this as a huge one. "After all, this was Olympic qualification and this would be there at the top of all my wins against him," said a completely drained out Sharath.
Never-say-die Mouma
Despite losing her final round in the morning to North Korean Ri Myong Sun in straight games of 3-11, 9-11, 10-12, 5-11, Mouma had her chance in the losers final. And, as expectd, the 32-year-old did not disappoint. She defeated Rimma Gufranova of Uzbekistan 4-1 (11-13, 11-9, 13-11, 11-7, 12-10) to book one of the two Games slots.
For Mouma, it will be her second Olympics as she had first competed in the singles event at Athens along with Sharath in 2004.
"Though I was a bit nervous, I knew I can beat my opponent. After the first game got extended, I was more determined. But she was really good and challenged me at every stage. The win in the third game was crucial and despite losing two match points in the fifth, I was sure I am close to clinching the berth," said the five-time national champion and the most capped Asian in world championships.
President of the Table Tennis Federation, Prabhat C.Chaturvedi, in his congratulatory message to the paddlers wished them well for the Olympics. "We are really proud of your achievements. You have taken Indian table tennis to new heights. You proved it during the world championships at Bangkok in February and now again in Hong Kong. These are good sings, indeed," said Chaturvedi in his message to the team members.