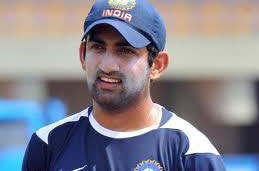 Kolkata: In all praise for Andre Russell (3/24 in 3 overs) who set the tone for Kolkata Knight Riders by taking three quick wickets early in the innings that restricted Delhi Daredevils to just 98 runs, KKR skipper Gautam Gambhir said the way Russell started with the ball was commendable.
"We were very professional. Russell got to Kolkata this morning. The way he started with the ball was commendable. He is a quality player. Once we restricted them to 98, it was half the job done. We aren't used to playing on these kinds of wickets and that is why we decided to bowl first," said Gambhir.
"In our chase, someone had to bat through and it was my responsibility to do that. Robin was unbelievable. To give us that kind of start was fantastic. We've covered most of our bases, so we are happy with whatever surfaces we get," said the skipper.
Andre Russell, who was Man-of-the-Match, said "We just have to adjust to any surface. That is where professionalism comes into play. It wasn't the fastest of wickets but it wasn't slow either. If I get a chance to bat, I'd go out there and do something destructive. When things are going your way, you need to find ways to stay up there. I thought the wicket wouldn't spin that much, but credit to Brad Hogg and Piyush Chawla for backing me up. The captain and Uthappa played well."
Meanwhile, Delhi Daredevil captain Zaheer Khan said that it was a learning experience for his team. "You learn every day. I was trying to swing the ball too much. I was playing after a long time. I was happy to see the effort of the fast bowlers. Every team is going to have one bad game and hopefully we've got that out of the way. We're just giving our young batting line-up freedom. They are quick learners, they've got the energy. We are happy with our plans and preparation. It's just about letting this team express themselves on the field freely."