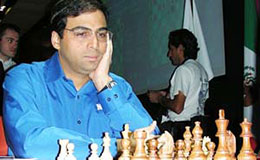 Moscow: India's ace and five-time world champion Viswanathan Anand played out a draw with Veselin Topalov of Bulgaria to remain in joint third position after the end of the eighth round of Candidates Chess Tournament, here on Sunday.

Meanwhile, Fabiano Caruana defeated Hikaru Nakamura of United States, while Peter Svidler and Sergey Karjakin went for a draw leaving the doors open for a nail biting finale.

Results round 8: Veselin Topalov (Bul, 2.5) drew with V Anand (Ind, 4.5); Levon Aronian (Arm, 5) drew with Anish Giri (Ned, 4.5); Fabiano Caruana (Usa, 4.5) beat Hikaru Nakamura (Usa, 3); Peter Svidler (Rus, 3.5) drew with Sergey Karjakin (Rus, 5).