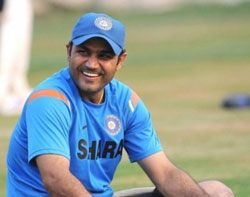 In October this year, Virender Sehwag announced his retirement from all forms of international cricket. Considered one of the most attacking batsmen with 8586 runs from 104 test matches, he was known for his hard hitting and aggressiveness.
Here are the few things that make him different from others and of course a legend.
Everyone knows the condition of a batsman when he's in his nineties, but this man reaches his ODI double ton with a four! And also he hit a six to reach his first Test triple Hundred. This is what he said about this "When I was nearing the double ton, there was only one thought whether it is six or four to complete that."


When he was not destroying bowlers with his batting, Sehwag just put them back with his words. The pick of that came against Pakistan in Multan. Shoaib Akhtar continuously challenged him to hook. Sehwag turned to a close in fielder and told him that "Ye bowling kar raha hai ya bheekh maang raha hai?" (is he bowling or begging?).


First ball four, he was the only cricketer who hit five fours on first ball of five consecutive matches in a World Cup and there were five different bowlers at receiving end. His reasons for this were "When I take guard, thoughts like hit the ball for a six and to defend enter my mind. That is the time when my mind have such various thoughts, but when my mind is blank, then I will play according to the quality of ball."


Viru is also known for his sense of humour. When a journalist asked him for his opinion for the bouncy pitches in England, he just said "No" and when journalist ask "why" he replied "Kya farak padta hai".
By Kapil Bhatt