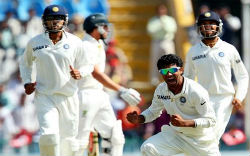 Mohali: Awarded man-of-the-match for his crucial 38 runs in the first innings and eight-wicket haul (five in the second) that helped India beat South Africa by 108 within three days in the first Test at PCA Stadium, Mohali on Saturday, Ravindra Jadeja said since he had played on the turning tracks at Rajkot in the Ranji match prior to the Test, he had confidence in his bowling.

"I worked hard this season. I was bowling in the nets for hours and this was my comeback game. I was looking to play positive. I scored three fifties in domestic as well. It has been a pressure game for me as I was trying to prove myself again. So I am really happy."
Meanwhile, terming it to be a special occasion, Indian skipper Virat Kohli said India were a young team and the credit for the win goes to the whole team. "First Test as captain at home was a special occasion for me. Seeing the way things have gone in the past month-and-a-half and the way we played here, a lot of credit has to go to the team. We thought if we are finding it difficult on this wicket, it is going to be difficult for them as well," said Kohli, adding that there were soft dismissals

"I don't think there were any demons in the wicket. The ball did not turn square at any stage. Batsmen had to apply themselves. It was a bowler's game. You need mental strength at this level. Vijay and Pujara are two of the most solid guys we have. Had we applied more, we could have given them a bigger target," said the captain, adding that he was very happy for Ravindra Jadeja.

"I am happy for him. He went back, got lot of wickets in Ranji Trophy, scored runs as well. He is feeling good now. People with all-round ability are hard to find and it is just a matter of him keeping his mental strength and he can be an asset for India in the future," said Kohli.

Meanwhile, Hashim Amla said, "200 was a total, which we should have chased. Probably 150-160 would have been more realistic on a deteriorating wicket. There were some soft dismissals, we were in the game till we lost four or five and put pressure on the lower guys. To get India for 200 was an excellent effort from our bowlers. We kept ourselves in the game till the last session. But credit to India for bowling us out."