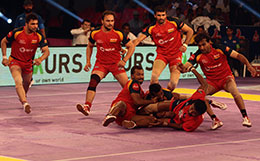 Jaipur: Led admirably by their Captain Manjeet Chhillar in attack and equally well supported by the defensive trio of corner men Dharmaraj Cheralathan, Joginder Singh Narwal and central defender Somvir Shekhar, Bengaluru Bulls outclassed Dabang Delhi 33-18 to register their third win of Season 2 of Star Sports Pro Kabaddi. The winners getting their opponents all-out twice explains the dominance of the winners. The Bulls went 17-8 at the break with the first all-out they got due to Manjeet Chhillar who got two defenders and two points for the dismissal.

Delhi never recovered thereafter as Bulls continued their run. By the 30th minute they had gone up 30-23 to almost seal their opponent's fate. Manjeet Chhillar had by that time logged in 7 points in 15 raids. Delhi lacked teeth in their attacks. Star raider Kashiling Adake had just 3 points to show for his efforts. Ajay Thakur the premier raider for the Bulls was a bit subdued but he came into his own with a super tackle in which he got G S Manikandan, Amit Singh and Rakesh Singh.
Sensing their upper hand, Bulls skipper Manjeet Chhillar took the onus of raiding on his shoulders. He ran down the clock, utilising the allotted 30 seconds for the raid to the fullest. The responsibility of the do-or –die raids then was entrusted to Ajay Thakur as Manjeet Chhillar's presence on the ground to lead his team was very important.

Delhi tried in every sense but Rohit Kumar Choudhary and Kashiling Adake were just not able to break the impregnable Bengaluru defence. Dharmaraj Cheralathan came up with timely ankle holds and Somvir Shekhar's frontal blocks were rock solid. Amit Kumar, the tall raider from Delhi, failed to garner a single point which exhibits the strength of the Bengaluru fortress. Finally the 11 points by Manjeet Chhillar with able support from Rajesh Mondal in attack proved decisive for the winners.
[module-214]