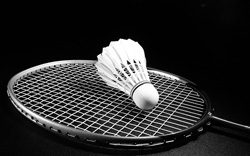 New Delhi: Mumbai Masters had the last laugh as they won their opening match against Banga Beats in the Indian Badminton League at the Siri Fort Sports Complex on Thursday. Mumbai managed to sneak through by 3-2 in close contests, which they managed to win this without the services of their iconic player and World No.1 Lee Chong Wei.

Banga Beats had a very bad start as their iconic player Parupalli Kashyap was overpowered by the Mumbai's Vladimir Ivano. Ivano won the match by 21-18, 21-18 in the first men's singles match.
Mumbai didn't get bogged down with the early loss as Chinese Taipei's Ying Tai Tzu pulled off a sensational victory over Danish great Tine Baun by 21-17, 21-18 in the women's singles.
Banga Beats went on to take a lead as their men's double pair in Danish Carsten Mogensen and India's Akshay Dewalkar helped them to register an easy win over the Indian pair Pranaav Chopra and Manu Attri by 21-13, 21-12.
Mumbai Masters rolled up their sleeves and they managed to finish their day on a high as they registered wins in their next couple matches. In the second men's singles, Marc Zweibler competed in a hard-fought contest against Beat's Hu Yun but finally managed to win for Mumbai by 17-21, 21-17, 11-6 in the fourth match.
As the day's play went down to the wire, it was the mixed doubles pair of Vladimir Ivanov and N. Sikki Reddy who came out with flying colours for Mumbai as they defeated Dewalkar and Aparna Balan 21-18, 21-19.
Results: Vladimir Ivanov (Masters) beat Parupalli Kashyap (Beats) 21-18, 21-18; Ying Tai Tzu (Beats) beat Tine Baun (Masters) 21-17, 21-18; Carsten Mogensen/Akshay Dewalkar (Beats) beat Pranaav Chopra/Manu Attri (Masters) 21-13, 21-12; Marc Zweibler (Masters) beat Hu Yun (Beats) 17-21, 21-17, 11-6; Vladimir Ivanov/N. Sikki Reddy (Masters) beat Akshay Dewalkar/Aparna Balan (Beats) 21-18, 21-19.