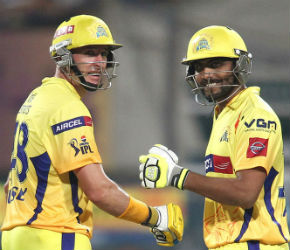 Chennai Super Kings will be taking on Rajasthan Royals at M.A. Chidambaram Stadium on Monday. Rajasthan have played some good cricket till now while Chennai are also back into the groove with back-toback wins. However it won't be an easy task for Dhoni and his brigade as Rahul Dravid has been using his resources brilliantly.
Here we bring to you the players who can make a significant difference in this match.

Chennai Super Kings (CSK)

Mike Hussey: Hussey has been the cornerstone of CSK's innings and whenever he had batted well CSK has won the match comfortably. Hussey not just brings that aggressiveness in mid-overs but also give that stability to middle-order.
MS Dhoni: Dhoni has come up with some good knocks this season and would be looking to repeat that success against RR. It is not going to be easy for him to face some quality bowlers of RR, but he has that ability to tear apart any bowling line-up. He is going to be trump card for CSK success in this match.
Chris Morris: Morris has been absolutely brilliant this season. His ability to keep nagging the batsmen with his line and length makes him the best bowler of this CSK line-up. In last match, he ended up with the figures of 1/12.
Ravindra Jadeja: Jadeja was the hero of match against Kolkata Knight Riders because of his splendid performance with the bat as he scored 36 runs off just 17 balls which were decorated with three fours and three sixes. He also chipped in with the ball and picked up three wickets for just 20 runs.
S Badrinath: Badrinath came into bat quite late in last match and wasn't able to sustain that pressure. He needs to be on his toes because Dhoni might do that quite often if CSK gets a good start. He has played some good knocks till now and a much better performance is expected from him in this crucial match.

Rajasthan Royals (RR)

Rahul Dravid: He scored 35 runs in his last match and was looking in good touch for another big innings. Dravid has been brilliant with the bat as well as with his captaincy. The way he is taking critical decisions, including playing with five fast bowlers or promoting some local talent up the order is all going in his favour.
Ajinkya Rahane: Rahane has that ability to take on the bowlers in overs of power-play and can steady the innings by playing some good defensive shots. His ability to play till the last ball of the innings makes him a corner stone in the RR's batting line-up.
Shane Watson: Watson has that ability to do some serious damage with his ability to smash the bowlers and can be really dangerous for the opposition. Watson is back in action with the ball and would be adding to strength to the RR's bowling. In last match, he picked up two wickets for 11 runs.
James Faulkner: Faulkner was brilliant in the last match and bowled some tight overs to end up with the figures of1/21 in four overs. He has been the best buy for RR this season and with his all-round skills he adds more value to his place in the Rajasthan Royals squad.
Kevon Cooper: Cooper was dropped for Shaun Tait and that made the huge difference for RR. Cooper has that ability to bowl yorkers on consistent basis can put CSK in lots of trouble especially in the death overs. His ability to hit the ball out of the park can also be of great use if RR goes through batting collapse.
By Amit Chopra
Indian Sports News Network