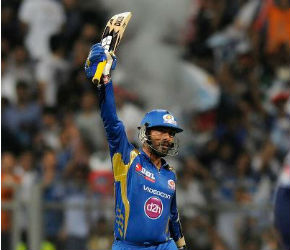 Kolkata Knight Riders are all geared up to take Mumbai Indians at Eden Gardens on Wednesday. It's going to be an intersting battle between batting maestro Sachin Tendulkar, Dinesh Karthik, Rohit Sharma and the KKR's spin duo of Sunil Narine and Sachithra Senanayake. On the other hand, the batting trio of Gautam Gambhir, Jacques Kallis and Eoin Morgan would be looking to overshadow Lasith Malinga and Mitchell Johnson with their aggressive strokeplay.
Here we bring to you the players to watch out for Kolkata Knight Riders (KKR) versus Mumbai Indians (MI).
Mumbai Indians

Sachin Tendulkar: Sachin would be looking to make his 40th birthday more special by coming up with an innings that would be a treat for the whole cricket fraternity. He played a crucial knock of 54 runs in last match but got out on widish delivery. He has been the best player of this game that world has ever see and his presence in MI dug-out is enough to lift the morale of his team.
Rohit Sharma: Sharma has hit the purple patch at the right time. In last match he scored a magnificent 73 off just 43 balls which was studded with five fours and five sixes. He has that ability to take on the bowlers after playing five-six balls and it would be interesting to see how he will tackle the spin twins Sunil Narine and Sachithra Senanayake.
Mitchell Johnson: Mitchell Johnson should play in this match as he might be able to exploit that reverse swing that is available at the Eden gardens. He has been the best bowler for Mumbai Indians so far and it would be great to see him in action once again. His ability to bring the ball back into the right-handers can be utilized because KKR have just two left-handers in their top eight batsmen.
Lasith Malinga: Malinga is well aware of strength of KKR and would be looking to dismantle their middle-order with his toe-breaking yorkers. He has been off-colour this season but he can make a great comeback in this clash of the titans.
Dinesh Karthik: Karthik has been in brilliant form this season and would be looking to continue it against KKR. He departed early in the last match that affected MI very badly but he would be looking to get into the groove and come up with some sensational stuff at Eden Gardens.

Kolkata Knight Riders

Gautam Gambhir: Gautam has been in brilliant run this season and would be looking forward to continue in this match when he will take on one of the best bowling line-up in this edition of Indian Premier League. He has started off well in every match but he gets slow due to fall of wickets from other end which is not a good sign for KKR.
Sunil Narine: Narine has been the best bowler for KKR till now and would be looking to cast his spin web once again to stop Dinesh Karthik and Rohit Sharma from scoring heaps of runs in this match. The mystery surroung his bowling makes him a deadly bowler for KKR and in last match he gave away just 20 runs.
Sachithra Senanayake: Sachithra is bowling really well and doing some fine job for his team. He gave away just 18 runs in last match and gave his team the first breakthrough. He just needs to be attacking in his approach rather than trying variations.
Jacques Kallis: Kallis was a flop show in last match but his ability to lift his team with his all-round ability makes him a great asset for KKR. He has played some brilliant knocks off late and it would be interesting to see how he will tackle Lasith Malinga when he comes out to bat.
Eoin Morgan: Morgan has been the epitome of elegance with aggression in all his outing. His ability to shift his gear makes him a very dangerous player in the middle-order but he needs to bat at number four to make him more accountable in batting. His brilliant fielding in 30 yard circle makes him an added bonus for his team.

By Amit Chopra
Indian Sports News Network