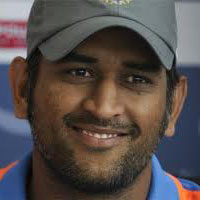 As the World T20 2016 has already started, all the participating teams are more or less reday with a stable combination for the global event. Host India are the hot favourite for this tournament according to retired legends of the game, including Sourav Ganguly, Inzamam-ul-Haq, Kapil Dev and many others.
India have already showed their intention by winning three T20 tournaments in a row. The series win against ODI world champions Australia was a special one not because Virat Kohli was the highest run-getter of the series, but also because it saw the emergence of two new stars in Jasprit Bumrah and Hardik Pandya. Both the youngsters bring stability to the team.
Hardik Pandya is looking like a find which India was looking for ages, post the retirement of Kapil Dev, the last proper pace bowling all-rounder who played for India. And according to skipper Mahendra Singh Dhoni, everything is right in the Indian dressing as they were running in the 6th gearright now.
The only concern for the mighty Indian batting order is the number 4 slot. There was already two contenders for this slot in the form of Suresh Raina and Yuvraj Singh, but the way Dhoni came in at number 4 and finish the game in the Asia cup final against Bangladesh, opens up the debate. Even former cricketer Virender Sehwag feels in that way: "If MS Dhoni bats at number four, it is good for the team. He can play fast bowlers and spinners with equal ease and knows when to slow down or accelerate. I have been saying it since 2015 World Cup. I am not saying that he won't get out at that number 4, but he can win more matches for India," Sehwag stated in a recent interview.
If we look at the batting of MS Dhoni in ODIs till the last year at the number 4 slot, he averages 68.40 which is the best average batting at number 4 (minimum 1000 runs) in the history of the game.
So, a part of the cricketing world is heavily bent towards Dhoni batting at number 4. Will Dhoni bat at number 4 or it will be Raina if not Yuvraj -- we have to wait and watch!