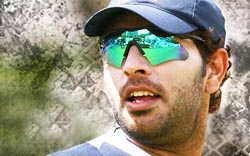 New Dlehi: Yuvraj Singh, who has been included in the India's T20 squad for the Australia tour, failed to shine with the bat against Rajasthan, as the minnows defeated Punjab by four wickets in a group B encounter in the Syed Mushtaq Ali Trophy on Saturday.
Batting first, Punjab managed to score 130 for six in 20 overs with Mandeep Singh (76 off 52 balls) being the highest scorer. Yuvraj (2 off 5 balls) was caught by Rajesh Bisnoi off a slower delivery from Rajat Bhatia. Gurinder Singh (29 no) was another contributor to Punjab's score.

Chasing the target, Rajasthan roped in home in 9.4 overs with four wickets in hand. RK Bishnoi (Sr) top scored with 58 runs off 32 balls.

Meanwhile, in another match between Haryana and Bengal, veteran Virender Sehwag flopped while Wriddhiman Saha (81 off 47 balls) and Mohammed Shami (3 for 18) helped Bengal to 61-run win.
Syed Mushtaq Ali Trophy (Jan 2)
BENGAL WON BY 61 RUNS
Hyderabad 124 v Bengal 185/4

HIMACHAL WON BY 5 WICKETS
Himachal 152/5 v Gujarat 151/6

MUMBAI WON BY 6 WICKETS
Odisha 91 v Mumbai 95/4

TEAM RAJASTHAN WON BY 4 WICKETS
Team Rajasthan 133/6 v Punjab 130/6

UTTAR PRADESH WON BY 7 WICKETS
Uttar Pradesh 113/3 v Maharashtra 109/7

MADHYA PRADESH WON BY 5 WICKETS
Andhra 95/9 v Madhya Pradesh 96/5

TAMIL NADU WON BY 9 WICKETS
Tamil Nadu 116/1 v Haryana 113

SERVICES WON BY 3 WICKETS
Karnataka 121/9 v Services 122/7

BARODA WON BY 49 RUNS
Assam 116/9 v Baroda 164/8

KERALA WON BY 5 WICKETS
Kerala 129/5 v J & K 126/6

SAURASHTRA WON BY 66 RUNS
Tripura 78 v Saurashtra 144/6

DELHI WON BY 4 WICKETS
Delhi 214/6 v Railways 210/2