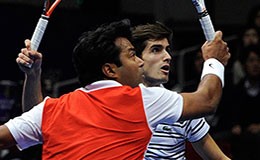 Kobe: To a thunderous applause, day 3 in Kobe opened with home team, Lengendari Japan Warriors face off against the Philippine Mavericks. Luck failing them the first two days, the Warriors took the courts eager to capture victory for their home fans. Two Japanese players in the order of play today ensured that the Kobe World Hall was packed to capacity, clear indication of the fans loving tennis' newest innovation. The Warriors may have lost the match, but clearly IPTL's Kobe debut was a winner all the way!
Match Summary:
- Coach Treat Huey won the toss for the Mavericks, and elected to serve
- Mixed doubles saw doubles proPaes partner Lucic for the home team, with player-coach Huey partnering Williams and winning it for them 6-3
- Men's doubles saw some clever shot-making and quick footwork from Paes/Herbert, but the duo came a cropper against the French pairing of Gasquet/Roger-Vasselin who won it 6-4
- In the most awaited match of the evening, local hero Kei Nishikori set up a tough fit against big serving Milos Raonic. The packed arena enjoyed plenty of long rallies, and canon-like services – Raonic clocked an aces at 230kmph! Nishikori's nimble footwork and clever shots failed to win it for him, losing the set to Raonic 5-6 in a super shootout
- Fans regaled in tennis nostalgia watching the legendary Marat Safin and Mark Philippoussis battle it out in the men's legends singles, with each eager to outdo the other, with Philippoussis winning the set 6-5
- Talented young Kurumi Nara came on in the last set of the evening for the home team, to a loud cheer as she took on Serena Williams in the women's singles match. Clearly Nara fed off the energy from her home fans to win the only set for the Warriors 6-4 in unbelievable fashion, a dream come true for her!
What the Players said:
Kei Nishikori: "It's disappointing the team lost today, but Kurumi won against Serena in unbelievable fashion, and made us all very happy! It was lovely to see the audience enjoy the match and this fun format of tennis. For me personally, I've played in Tokyo a few times, but playing in Kobe for the first time was a big factor in deciding to play in the IPTL. The team competition is a unique aspect about this competition, and I was really looking forward to that experience. I was not fully prepared on my first day, but seeing the serious competition on day one, I came better prepared today and was able to play much better. The team spirit is really good and the spirit of competition is very high."
Kurumi Nara: "I was nervous all day today when I found out that I would be playing Serena Williams. She's such a huge player, she's world no. 1 and so big and powerful. I can't believe that I won against her today, but more than that I am relieved that it's over!" speaking about the IPTL experience, she said "I am really looking forward to palying the next 3 weeks with and against such big and experienced players. In my team itself, I was scared of Marat Safin, but he's made me feel really relaxed and comfortable, and the whole team was very supportive, which helped me focus and play so well in my match. My goal is to gain and learn from the IPTL experience and to play better tennis next year thanks to the IPTL."
Match Scores:

Day 3 | 4th Dec'15

Match 6 | 7:30pm

Home Team

SCORE (GAMES)

Away Team

Legendari Japan Warriors

Coach: Josh Eagle

24

28

Philippine Mavericks

Coach: Treat Huey

MIXED DOUBLES

Lucic / Paes

3

6

Williams / Huey

MEN'S DOUBLES

Paes / Herbert

5

6

Gasquet / Roger-Vasselin

MEN'S SINGLES

Kei Nishikori

5

6

Milos Raonic

(M) LEGENDS SINGLES

Marat Safin

5

6

Mark Philippoussis

WOMEN'S SINGLES

Kurumi Nara

6

4

Serena Williams