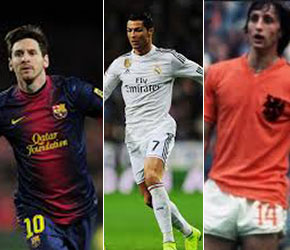 FIFA's Ballon d'Or is an award given to the world's best footballer every year. This time Barcelona's Lionel Messi was given the award for record 5th time. Messi and Ronaldo have shared last 8 Ballon d'Or awards between them. This fact just shows that award is given to the most popular players in football planet and ignores the deserving players. It honours the most celebrated personalities in the world of football.

Since the start of the century, the award has been given only to attacking midfielders or forwards. Fabio Cannavaro was the only exception in year 2006. In a team, everyone contributes towards the success, but giving rewards or credits to only attackers are not justifiable. There are many players such as Manuel Neuer who have performed extremely well in the past year. Ronaldo scored more goals than Messi last year, but Messi won the Ballon D'or just because of Barcelona's dominance in terms of winning silverware season after season.

Ballon D'or is something of an enigma in the sense that it honours individual player with more accolades and have less to do with their individual skill. This means if you are a great player but not playing for the top 5 clubs in Europe, then the probability of winning the Ballon D'or is zero. From the past few years, it just seems to be a marketing gimmick, given to players from the best team in Europe. The fact that Ballon D'or selects an attacker year after year, no matter how much better defenders perform, is a simple rule of marketability. FIFA has clearly observed this trend and wants to award it to player who fits in this scheme.

Having coaches and football writers 'vote' for the best player in the world is not the way of rewarding a player.