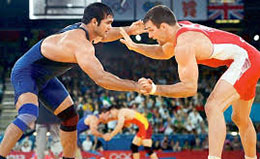 New Delhi: World Championship bronze medallist Narsingh Yadav will headline the JSW Sports franchise from Bengaluru in the inaugural edition of the Pro Wrestling League. Narsingh, who competes in the 74 kg category, was acquired for a price of INR 34.5 lakh beating off competition from the Mumbai and Delhi franchises at the auction, held in New Delhi, on Tuesday.
The Pro Wrestling League, slated to be held from December 10 to 27, is a six-team competition (Bengaluru, New Delhi, Mumbai, Uttar Pradesh, Punjab and Haryana) and will be contested in accordance with Olympic wrestling rules. Each team comprises nine wrestlers - five men and four women - with a maximum cap of four foreign wrestlers on the team roster.
Narsingh will be joined by 2014 Military World Games gold medallist Sandeep Tomar who will compete in the 57 kg category while 2013 World Championship bronze medalist Bajrang Punia will turn out for the franchise in the 65 kg class. Ukraine's 2015 World Championship 97 kg bronze medallist Pavlo Oliynik was the franchise's first foreign acquisition. The 26-year-old Ukrainian was purchased for INR 29 lakh. Georgia's Davit Modzmanashvili was the fifth and final purchase in the men's division for franchise, costing INR 18.1 lakh
In the women's category, JSW Sports opened their bidding process in strong fashion, acquiring USA's 48 kg wrestler Alyssa Lampe. She was joined by 2014 Commonwealth Games silver medalist Lalita Sherawat. The team's final foreign slot was filled by Sweden's two-time European champion Johanna Mattsson. The women's category was rounded off by Navjot Kaur's arrival with the 69-kg wrestler becoming the team's last purchase of the evening.
Mustafa Ghouse, CEO JSW Sports, said that the team had come up with a particular plan as far as player acquisitions were concerned and he was satisfied with his purchases. "We had identified certain targets and I am happy to say that we have walked away with them. There was a little bit of tinkering done during the auction process, we changed a few plans and I believe that this team has the kind of balance that we were looking for. Also, four among our nine wrestlers (Narsingh, Bajrang, Sandeep and Navjot) are already part of the JSW Sports Excellence Program and we know what they bring to the table," he said.
"We have some pedigree players, wrestlers who have won multiple medals at the World Championships and also at the Olympics. We are looking forward to a strong display from our entire team in this first edition of the league," said Ghouse.