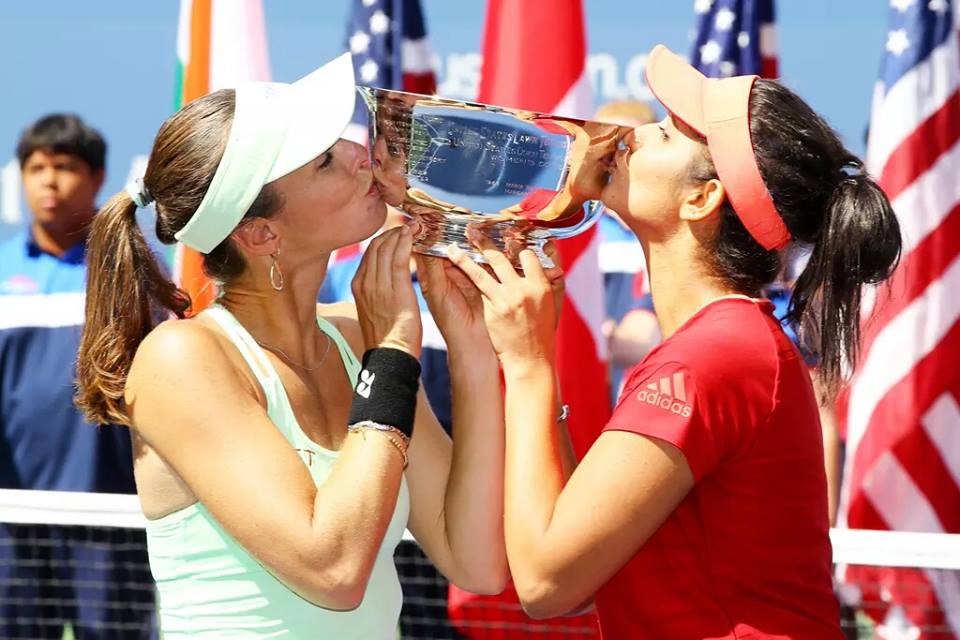 Singapore: Martina Hingis and Sania Mirza have secured the WTA Year-End World No.1 Doubles Ranking presented by Dubai Duty Free.
"Dubai Duty Free congratulates Serena, Sania and Martina on reaching the No.1 spot in singles and doubles of the 2015 WTA Year-End ranking," said Salah Tahlak, Senior Vice President of Corporate Communications at Dubai Duty Free. "We are delighted to present the Year-End No.1 trophies to these players that signify their outstanding results in 2015. We are a proud partner of the WTA and look forward to welcoming Serena, Sania and Martina back to Dubai in February 2016 to participate in the Dubai Duty Free Tennis Championships."
Hingis and Mirza are 8-1 in finals this season, with two Grand Slam titles (Wimbledon, US Open), five WTA Premier titles (BNP Paribas Open - Indian Wells, Miami Open, Family Circle Cup - Charleston, Dongfeng Motor Wuhan Open, China Open - Beijing), and one WTA International title (Guangzhou International Women's Open). As a result, the Swiss-Indian duo finished atop the Road to Singapore leaderboard and earned the top seed for the BNP Paribas WTA Finals Singapore presented by SC Global.
The partnership between Hingis and Mirza began at the 2015 BNP Paribas Open at Indian Wells in March, where they clinched their first title as a team. Their undefeated hot streak continued through their next two events at the Miami Open and the Family Circle Cup at Charleston, where Mirza ascended to the World No.1 ranking.
"It is definitely something beyond my expectations," said Hingis. "When I first teamed up with Sania it was a trial at Indian Wells and Miami to see how it would go. We ended up winning both of those tournaments and Charleston on top of it, and since then it has been an incredible journey. Ending up as the No.1 team is definitely something beyond my expectations and something I had dreamed of but when it really happened it was incredible."
"I'm very excited," added Mirza. "This is something we've worked towards especially in the later part of the year. When we first teamed up, we were testing it out. But when we started doing well, we realized that we could do some great things together and it became one of our goals to end the year No.1, so we're really happy to have achieved that."
Hingis, 35, has been inducted into the International Tennis Hall of Fame due to her 94 WTA titles over the past 20 years, which include 49 doubles titles. In 1997, Hingis became the youngest women's player to be ranked World No.1 in singles (16 years old) and the youngest-ever doubles No.1 in 1998 (17 years old).
Mirza, 28, has also made history by becoming the first Indian woman to achieve the No.1 ranking. The Indian star has clinched 32 WTA doubles titles including two Grand Slam titles, achieved this year. In August, Sania was presented with the prestigious Rajiv Gandhi Khel Ratna award, India's highest sporting honor.