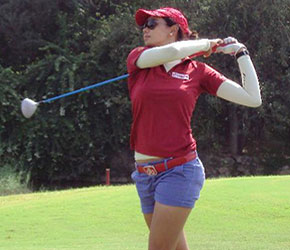 Sharmila Nicollet wants to be the face of Indian women golf
She is the new poster girl of women golf in India. Cool and restrained, this 19-year-old can easily pass off as a model. But rather than walking the ramp, the tall lass from Bangalore wants to tread the tricky greens instead.
Sharmila Nicollet, who finished as the top Indian at tied 23rd in the recently concluded Indian Open, has dominated the national circuit this season and her hunger for win is increasing with each passing day.
Ask her about her ambition and she replies of emulating the feats of two of the most famous 'S' of Indian women sports -- Saina Nehwal and Sania Mirza – in the game of golf. Her ultimate desire is to become the face of women golf in India and through her endeavours and achievements the youngster wants to take the game to an altogether different level.
In an interview with Rakesh Jha of Indian Sports News, Sharmila talks about her game, aims and desire. Excerpts:
ULTIMATE DESIRE
I want to be the face of women golf in India. I want to do what Saina Nehwal has done to badminton and Sania Mirza has done to tennis in India. See what they have done to their games. It's because of them that girls are queuing up for those sports. They have made it so popular. They have changed the face of their games and I want to do the same to women golf in my country.
EXPERIENCE OF PLAYING IN THE INDIAN OPEN
It wasn't what I had expected it to be. The result could have been better. But I am quite happy with my performance in the Indian Open. I shot six-over on the first day and that proved to be my nemesis. I recovered well on the last day when I shot 69, which was the best score for the day. I faltered on day one but tried to recover my lost ground on the last day and caught up with few places. I think the pressure of performing in front of the home crowd took its toll. There was a lot of expectation from me and I could not handle the attention. But then I am young and I am learning something, somewhere, everyday.
LESSONS LEARNT FROM LAURA DAVIS
Playing in the Indian Open was quite an experience. I was fortunate to play alongside Laura Davis. I got to learn so many things from the veteran. I was amazed to see that she hardly used her driver throughout the day. She reached her distance using the irons. That's called experience. She is a strategist and that was a lesson that I learnt from the graceful lady. I also learnt the art of course management from Laura.
POSITIVE OUTCOMES FROM THE TOURNAMENT
The tournament made me feel that yes I can do it. I might not have been able to finish in the top bracket, but my last day score showed that I can match the best of golfers stroke-by-stroke. I matched everyone on the distances with my shots. I just need to strategise my game. I am young and with more exposure, I am sure to learn the art of playing under pressure. This tournament has given me the confidence that I can do it. Now I know that there is nothing different between me and the best players on the foreign circuit. I just need to be patient and cool and wait for my chances. The tournament was an eye-opener.
SCHEDULE & PLANS AHEAD
Presently I will be playing in India. My aim is to play more on the foreign greens, including the Asian Tour, Japan Tour and European Tour. Everyone dreams of playing on the LPGA Tour and so do I. But I am in no hurry. I want to go step by step. As of now I am waiting for my confirmation to the Dubai Masters. My case is in consideration and if I get a call, it will be biggest moment of my playing career so far. Then I am also planning to go to David Ledbetter for a few tips. I have been undergoing coaching under him and Gaurav Dhiman.
LIFE BESIDES GOLF
My hectic schedule keeps me away from many things that I love doing. Apart from golf, I love to meet my friends and watch movies. I try to catch up with them at least once in a week. I love going to Goa and I do that once a year for a week with my friends. My game keeps me away from my home, friends and family and I miss them all. I am putting up a lot of sacrifices and hope that it pays me off well.
ON INDIAN WOMEN CIRCUIT
We do know that the field isn't that strong in the women's circuit as of now. We do need more players. But the youngsters will take the game professionally only if the money increases substantially. We do hope that more sponsors support women golf in the coming years.