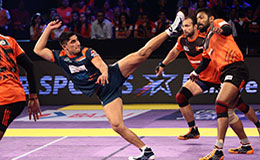 Pune: Rishank Devadiga who had remained in the shadows of Captain Anup Kumar and the other stalwarts sizzled in their absence to script a memorable win for U Mumba, the fifth in the first leg which enables the defending champions to finish third with 25 points. Rishank and Captain Rakesh Kumar who remained on court for the full duration of the match to guide his team will be more than satisfied for having kept the team afloat in the absence of four of their stars.
The 32-21 win over second placed Bengal Warriors in the Season 3 of the Star Sports Pro Kabaddi also helped the winners to maintain their unbeaten record against their rivals. The match was off to a slow start and the 11-9 score in favour of U Mumba at the break fairly indicates that.

The story of the first half is amply illustrated by the fact that Bengal Warriors' lead raider Nitin Tomar could get just one raid point in the first half. U Mumba had done their homework well. They never tackled Nitin Tomar till Jeeva Kumar got him late when the match was as good as won. Nitin's tally of 6 points got inflated because of the charity of rivals who allowed him to take them with ease. Their coach Bhaskaran Edachery's strategy of letting bonus points to limit material losses proved perfect.

Jang Kun Lee was the only one to do something of note with three points in three do-or-die raids. Else it was a Rishank show with 2 points each from raiding and tackles in this half. Bhupender Singh seemed to have scored a super raid but the decision was turned over after a successful review by Bengal Warriors.

U Mumba couldn't shake off their opponents till they achieved the all-important first all-out over their rivals. Pawan Kumar's couple had put the U Mumba side ahead at 14-10 but the losers caught up soon. But Rishank's decisive raids made it 20-16 in the 30th minute. U Mumba then started giving bonus points to Nitin but at the same time focused on their own strategy to canter ahead 23-16 by the 32nd minute.

Even after much attempts, Bengal Warriors found out to their disappointment that nothing was working for them. The defense consisting of the reliable Nilesh Shinde and Girish Ernak was toothless and the raiders too were ineffective. The second all-out (29-18) which came in the 36th minute effectively sealed the tie in favour of U Mumba who had to do nothing silly thereafter.