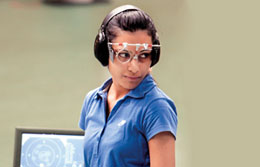 New Delhi: India's number one pistol shooter Heena Sidhu respected the odds, winning the 10m Air Pistol Women Gold medal and finally collecting the Olympic quota place she chased for a long time. Moreover, she did it on her home turf in New Delhi (IND), with a lot of pressure on her shoulders.
"It was difficult, I had another match in New Delhi a few months back and the pressure is always there. Everybody's watching you, the media, the people, and the federation is waiting for you to get the medal." She said right after the final. "Especially because my medal came after a long time. I've had so many near misses, so it was very important to shoot on my level here."
Sidhu absolutely controlled the 10m Air Pistol Women final, losing the top of the standings only for the first series of shots, claiming it back once and for all at the 6th shot mark and concluding with a final score of 199.4 points.
"I'm happy about the Gold medal and I'm happy about my score. That's what I'm more happy about. I think I've done my job, and I deserved the quota because I did my job." She added. "I'm going to Rio, it feels great!"
2nd, with the final score of 198.1 points, placed Chinese Taipei's Tien Chia Chen, while the Bronze medal went to Republic of Korea's Gim Yun Mi with 177.9 points.
The competition will continue tomorrow with the 25m Rapid Fire Pistol Men final scheduled at 1:30 PM (UTC+5:30), followed by the Trap Men final at 3:15 PM.