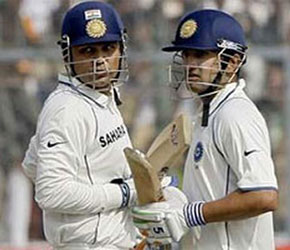 The India-England Test series has started and what a start it has been! The first day's play showed that it is going to be one hell of a contest between the two sides, Indian team are in a better position after the day's play but no one can rule out England. This series has been one of the most awaited ones in the recent times all eyes will be on these two teams over the next four days.
India were embarrassed by England last year, where the Men in Blue couldn't win even a single match on the tour. England after a stunning two months against India saw a dip where they lost all the ODIs against India in India and then lost their number one Test ranking to South Africa.
So, both the teams have everything to play for. Apart from the two teams battling it out in the middle, there will be some intense battle between few players which should light up the competition. Both teams are blessed with some exceptional talent and it will be great to see them take on each other.
Let's have a look at some of the battles between players that may determine the outcome of the game:
Virender Sehwag and Gautam Gambhir vs James Anderson: This is a battle which may decide the tone of the Test match. Both Sehwag and Gambhir are critical for the Indian team and they both struggled against Anderson in the last Test series between the two teams. Everyone will remember the two first ball ducks that Sehwag made in England, Anderson has been the most improved bowler in the recent past and can swing the ball both ways. He is the back-bone of England pace battery and if in form can run through a side.
Virat Kohli vs Stuart Broad: Both these young players have been phenomenal for their respective teams. Kohli is still new at the Test level but is in great form, he has been lethal in the past few outing and is arguably the best batsman in the team based on form. Broad on the other hand has had some injury problems but no one can count him out if he gets going. He was the game-changer for England in the last series and troubled all the Indian batsmen. The battle between these two young talents will be one to watch out for.
Sachin Tendulkar vs Graeme Swann: Sachin Tendulkar is the number one batsman in the Indian side and Swann is the number one England bowler in these conditions. Sachin's form at international level has not been good and he will be looking to break the shackles in this series and it will be the job of Swann to stop him doing that. It is for sure that Swann will get spinners friendly tracks and it will be up to him that how he makes use of the conditions.
Kevin Pietersen vs Indian Spinners: Pietesen's return to England team for this series is being termed as the best thing that could have happened for the visitors. Pietersen is a world class player and any team would lie to have him in their playing eleven, it is the way this man bats that makes him such a dangerous batsman. In this series he will be up against some good spinners like R Ashwin and Pragyan Ojha in conditions that will favor the spinners. His battle against Yuvraj Singh can also get pretty nasty going by the history the two players share.
Alastair Cook vs Zaheer Khan: The England captain has been quite amazing in the past few season and he always looks in good touch, he has good experience playing in India and will be hoping to lead his team to glory but there is one major obstacle in his way and that is Zaheer Khan. The veteran Indian pacer just loves bowling to the left-handers, he has struggled with injuries in the past and will be hoping to have good 20 days against England.
The captaincy battle between MS Dhoni and Alastair Cook: This is more of a tactical battle than anything else. Dhoni's performance as a captain in England was sub-standard, he failed to take the initiative in the entire series and the team suffered because of that. But this time thing will be different, Dhoni loves playing on spinning tracks and maneuvers his spinners brilliantly. For Cook it is a big Test, he is replacing Andrew Strauss and that too against what is the biggest challenge for a captain, playing India in India.
By Indian Sports News Network