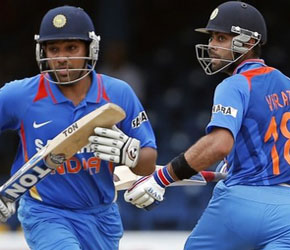 It was an extremely disappointing day for India, both on and off the field in Cuttack during the second T20 match of the Paytm Freedom Series. First, it was heartbreaking performance from the Indian batsmen, as India were bundled out for a low score of 92 in just 17.2 overs.
The second and the most embarrassing incident happened when the play in Barabati Stadium had to be called off twice during the South African innings, when irked fans started showering plastic bottles towards the cricket ground. Ultimately when play was resumed, the visitors clinched an easy victory as they won the match by six wickets.
Here are the hits and flops from the match:

India:
HITS:
Ravi Chandran Ashwin
Ravi Chandran proved to be the only silver lining for India in yesterday's embarrassing loss. There was hardly anything to defend but Ashwin tried his best and dismissed the top three Proteas batsmen, including Amla, de Villiers and Du Plessis, to give the Indians something to cheer for and showing yet again, why he is India's strike bowler now.
Rohit Sharma
On a day when the entire Indian batting failed miserably, Rohit Sharma remained the highest scorer for the home team. He started his innings quite well, carrying his form from the previous match, but found himself unfortunate to get run out by a brilliant David Miller throw. Had he stayed for a bit longer, there could have been a slight chance for India to fight back but it was just not his day.

FLOPS:
Virat Kohli
It's hard to criticize anyone in particular, especially on a day when the Indian batting line-up stumbled collectively. But a bit more maturity was expected from Kolhi, who is one of the seniormost batsmen in the Indian side. While taking a second run, Kohli could not anticipate the mid-wicket fielder Chris Morris properly which resulted in his run out at a cheap score of six. A brilliant combined work from de Villers and Morris led to demise of Kolhi which turned out to be a crucial factor in the match.
Mahendra Singh Dhoni
Neither could he contribute with the bat, nor he cliked with his captaincy skills. His decision to play Ambati Rayudu ahead of Ajinkya Rahane is backfiring as Rayudu failed to make an impact in both the T20 matches. Moreover, he has gone into a self-contradictory mode as he came to bat at number six whereas he has always promoted himself earlier whenever the team was in trouble. Previously he has claimed he liked to bat up the order, but when India was struggling at 40/4, he sent Rayudu and Raina ahead of him. This is second straight series defeat after the Bangladesh ODI series loss and he is founding himself beleaguered.

South Africa:

HITS:
Albie Morkel
This was a comeback game for the South African all-rounder and he was back with a bang with amazing figures of 4-0-12-3. Two weeks ago, he was uncertain of his place in the team and he later joined the team as a replacement for injured David Weise. Yesterday, he was the main perpetrator in breaking down the Indian batting with some awesome medium pace bowling.
JP Duminy
Duminy showed once again why he is so valuable in the Proteas batting order. Although the visitors suffered a bit of early jitters, Duminy maintained his cool and calm and was unperturbed even when the match was occasionally halted due to spectator violence. He stayed in the crease till the end and ensured the visitors took an unassailable 2-0 lead in the series.

FLOPS:
Hashim Amla
Amla was the first victim of Ashwin's brilliant spell and could only contribute two runs to the scoreboard. Not that it mattered a lot, as the South Africans had a very small total to chase, but on day where everything just went fine for the Proteas, Amla seems to be the only flop for them.