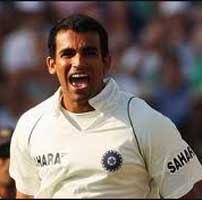 Out-of-favour Indian fast bowler Zaheer Khan, who picked up 311 wickets in 92 Tests and 282 wickets in 200 ODIs, announced his retirement from international cricket on Thursday.
In the last decade, he has been an inspiration for many cricketers round the globe. Zaheer played a key role in helping India lift the 2011 World Cup.

He never gave up easily. He was a hard-worker, a mastermind, a clever technician with the ball. The 'reverse' swing saint claims that, as he was training it gave him rigours thinking about the fact of bowling 18 overs a day and that's when he knew it was time. He is planning to sign it off completely from cricket after the IPL season 9.

Reacting on Zaheer's retirement, Sachin Tendulkar tweeted about his achievement and said he had the ability to 'out-think' the batsman. "One of the coolest pace bowlers I know. I am sure he will do well as he begins a new chapter in his life," he tweeted.
MS Dhoni also tweeted his praise on Zaheer and said that most of Team India's achievements would have been difficult to achieve without his help.

Zaheer last played a Test for India in February 2014 against New Zealand in Wellington. Since then, he has been plagued by fitness issues and he missed the 2014/15 Ranji Trophy for Mumbai due to a shoulder injury.
He served Indian cricket with remarkable passion and commitment. Being a fast bowler in the Indian sub-continent is challenging but he led the bowling attack with distinction and contributed significantly to the success of Indian cricket.

We can talk all we want about his injuries and weight, but his value to the team can be still felt in his absence; whenever India fails to break an opening partnership, whenever India needs the old ball to swing in a Test match, whenever India needs one end to be held up or simply when young bowlers need guidance. But if his farewell post is anything to go by, he's not yet leaving the game that means to much to him.

Till then, farewell.