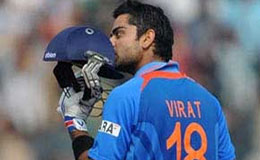 New Delhi: Virat Kohli, the poster boy of Indian cricket team who is in form of his life and is one of the most followed sportsperson in India, has made an entry into the top ten of the global sports fame list put together by ESPN.
Kohli was at No. 8 in the ESPN World Fame 100 rankings, which is otherwise dominated by basketball and football players. Meanwhile, MS Dhoni, India's ODI and T20 captain, too, finds a place among the top 20 at number 13, while tennis ace Sania Mirza was the third Indian on the list, at number 41.

The rankings for current sportspersons were based on a formula devised by Ben Alamar, ESPN's director of sports analytics; it combined salary and endorsements with social media following and Google search popularity.

The list was led by Cristiano Ronaldo, the world's top-earning footballer. LeBron James, the American basketball star, was at second place while Lionel Messi and Neymar bagged the third and fourth place respectively.

Meanwhile, tennis legend Roger Federer was at fifth place. Rafael Nadal and Novak Djokovic rank inside the top 20, at respectively No. 10 and No. 16, while Andy Murray is No. 31 and Kei Nishikori is No. 47.