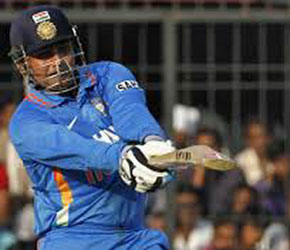 The Sultan of Multan recently announced his retirement on his 37th birthday. Though it wasn't unexpected, but the announcement coming too soon wasn't anticipated either. The flamboyant opener had scored 23 hundreds in Tests and 15 in his ODI career. The former Indian opener who would go on a rampage against any bowling attack said he wanted to thank everyone for all the cricketing advice given to me over the years, but apologise for not accepting most of it!

"I had a reason for not following it, I did it my way!', he said.

Of course he is a man of his word. Virender Sehwag had entertained the cricket fans with his blistering shots. Here are some of his best Test and ODI innings.
TEST

1. 319 vs South Africa (2008): 1st Test, Chennai

This superb knock came from Viru's willow at Chennai in 2008. It is historic as Sehwag became the only Indian with two triple hundreds. He also scored the fastest triple hundred off 278 balls. Chennai is lucky to have witnessed one of the best knocks from the Najafgarh Nawab. Even though the match ended in a draw, Sehwag's innings made the match very watchable.

2. 309 vs Pakistan (2004): 1st Test, Multan

This innings at Multan earned him the name 'Sultan of Multan'. Sehwag had scored 309 runs which was also his first triple hundred. His innings got India its first Test win against Pakistan at Pakistan. With this innings, Sehwag had become the first Indian to reach the 300 mark.

3. 293 vs Sri Lanka (2009): 3rd Test, Mumbai

Sehwag scored 284 runs in a single day in Mumbai Test. Unfortunately he got out early the next day. His innings consisted of a mammoth 40 boundaries and 7 sixes. With the help of Sehwag's 293 and Dhoni's 100, India were able to crush Sri Lanka by an innings and 24 runs.

4. 151 vs Australia (2008): 4th Test, Adelaide

This is the most responsible knock from Sehwag. It was evident that India were losing to Australia at Adelaide, but this man scored a slow and steady 151 helped India to draw the match.

5. 201 vs Sri Lanka (2008): 2nd Test, Galle

In the first innings, apart from Sehwag nobody had a score above 100.Even in the second innings, he scored a half century. With decent bowling display and Sehwag's double ton, India went on to win the test at Galle by 170 runs.

ODI

1. 219 vs West Indies (2011): 4th ODI, Indore

Sehwag's 219 helped India pose a total of 418, which gave India a win by a huge margin. Sehwag took on the Indies bowling attack right from the beginning till the end where he caught at long off. Every single Indies player congratulated him before he got back to the dressing room.

2. 175 vs Bangladesh (2011): 1st ODI, Dhaka

This blistering innings from Sehwag came at strike rate of 125.The host were helpless with Sehwag playing this knock. As usual he turned out to be the match winner and won the match for India.

3. 82 vs Australia: 2003 World cup, SA

India had won every single match except against Australia in the 2003 World cup. As the top order got out cheaply, Sehwag at the other end went after the mighty Australian attack. His 82 helped India reach a score over 200, saving India some embarrassment against the Aussies.

4. 125 vs New Zealand (2009): 4th ODI, Hamilton

Sehwag scored a breathtaking 125 at a strike rate of 168.91 in Hamilton. This innings in 2009 could be said as his best in that calender year. This match witnessed a 200-run partnership between Sehwag and Gambhir, helping India win the rain-hit match by the D/L method.

5. 119 vs Pakistan (2008): 5th ODI, Karachi

India had a tough of 300 to chase. As it was a challenging total on that pitch, once Sehwag got off to a flyer start, he made 300 look achievable and an easy total to chase. Raina supported Sehwag on the other end after Gambhir had got out early. With this right-left combination, India won the match easily.
Do Share your favorite Sehwag's innings