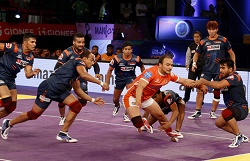 Patna: Puneri Paltan piled on more misery on Bengal Warriors as they beat them by 38-31 score line. It was the sixth defeat of the season for Bengal Warriors whereas PuneriPaltan won their fourth match of the season. Manjeet Chhillar produced a terrific all-round performance and ended with 11 points as his team recorded a convincing win. Sonu Narwal scored seven raid points for PuneriPaltan.
PuneriPaltannow have 25 points after seven games and are second in the league table. Bengal Warriors remain rooted to the bottom of the table after just eight points from seven games.
Jang Kun Lee opened Bengal Warriors in the opening raid but PuneriPaltan sent him to the bench in the third minute with the score 2-2. PuneriPaltan led 5-4 after eight minutes as both defence traded a few blows in an evenly poised first half. PuneriPaltan opened a five-point lead with their raiders nicking points regularly as they led 10-5 after 12 minutes.
PuneriPaltan inflicted an all-out in the 14th minute as they led 15-9 and Bengal Warriors looking extremely shaky. Ajay Thakur scored two raid points in the 17th minute as PuneriPaltan led 17-10. ManjeetChhilar had a good but in the 18th minute scored two raid points and one tackle point as Pune led 20-10. ManjeetChhillarregistered a "high five" as PuneriPaltan led 22-10 at the end of first half. Bengal Warriors scored just three tackle points in the first half.
Bengal Warriors suffered the second all out in the first minute of second half as PuneriPaltan opened up a commanding 16-point lead. With their defence giving easy and cheap points, Bengal Warriors were staring at a heavy defeat as they trailed 13-29 after 25 minutes. ManjeetChhillar continued his impressive form in the second half as PuneriPaltan led 31-16 after 29 minutes. Nitin Madane was the lone bright spark for Bengal Warriors and scored his seventh raid point in the 30th minute to reduce the deficit to 12 points. PuneriPaltan forced a super tackle in the 33rd minute to lead 34-21.
PuneriPaltan took their foot off the pedal in the last eight minutes and gifted easy points to Bengal Warriors. Nitin Madane achieved a super 10 in the 37th minute as Bengal Warriors trailed 36-26. Bengal Warriors inflicted their first all out in the 37th minute to cut the lead to eight points. Madane got another raid point in the last minute to salvage a point for Bengal Warriors as they lost 38-31.